Via del ferro, 10
54033 Carrara (MS)
tel. 0585 858776
fax. 0585 046169
E-mail:
acorsims@tin.it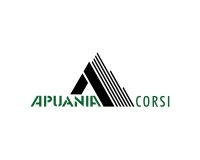 Apuania Corsi
Since 1929 Apuania Corsi has operated in the mechanical sector as a mechanical workshop and for the Construction of Machine Tools.
Since 1929 our company has a major presence in the Forging Industry, first with the established Serie dei Magli Atmosferic(first "CORSI" and then "APUANIA"), which, moreover, is still in production, then combining the knowledge and experience of innumerable clients with the development, design and manufacture of presses for hot forging with important supplies to Italian and overseas firms.

The long experience, combined with modernisation and the development of the Design Office, as well as the high specialisation of the Technicians and workers, has allowed our company to develop technologically advanced products with full customer satisfaction.

By way of example, in the early '90s we collaborated with Siemens to develop the CNC to introduce high technological content systems on hydraulic presses; overcoming the difficulties of development and working alongside at our factory the Siemens Technicians, one of the first controls with relevant software suitable for the high-tech management of the presses was applied on one of our presses for the production of brake linings.

The presses, our specialisation and appreciated by our customers, have always been based on the real needs of the customer to optimise the costs of realisation and the costs of production.
Then we began to develop hydraulic presses for various sectors; this was extremely important for the aeronautics industry which we researched, interacting with customers, designed and manufactured presses for the molding, with rubber pads, of light alloy parts for aircraft.In this sector we supplied a 10,000 kN press with CNC to Alenia Aereonautica in Casoria for use in its own laboratories to test components and to research the best parameters for production, to then be outsourced; other important customers in the Aeronautics sector are Costruzioni Aeronautiche Tecnam in Casoria and the company TESI Costr. Aereonautiche in Naples to which we have supplied two 10000 kN - CNC presses.

ISO 9001-2008 and SA8000-2008 certificates

For completeness of information, we would also point out that for some years now we have been developing Hydroforming Presses for the new frontier in sheet metal forming.
In the "pipeline" sector, in particular for T-type production, using hydroforming, a 32000 kN press has been designed and sold to a primary Italian Company of the sector.

Other applications and machines involve the study and design in relation to this new "hydroforming" molding system.In the Machine Tools sector, we are the owners of no. 3 European and international patents.Another important activity of our company is THIRD PARTY PRECISION MACHINING.

For years we have been the qualified suppliers of Nuovo Pignone in Florence-Massa, of TMP Termomeccanica Pompe in La Spezia and of countless industries in our area and in the center-north of Italy.
Our Technical Department employs advanced technologies, with the use of 3d cad-cam updated software with integrated simulators for the development and initial checks of machining programs, work performed on modern machine tools (Boring Machines, Milling Machines, Lathes) with latest generation CNC, details of which are in the attached list.

Our workers are almost entirely composed of trained technicians, and with experience of precision machining on CNC machines spanning no less than twenty years.