Via Giosue' Carducci, 42/C
54100 Massa (MS)
tel. 0585 790577
mobile 335 6845382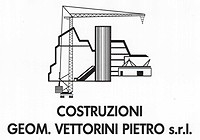 Costruzioni Vettorini
Costruzioni Geometra Vettorini Pietro S.r.l. was founded in 1984 as a sole-proprietor firm, becoming a limited liability company in 2008 and is involved in the design and construction of civil and industrial construction turnkey projects.
The sectors in which it operates are:
Civil construction, luxury and standard.
Industrial construction (warehouses, Oil & Gas test benches, fire protection structures, foundation slabs, etc.)
Scaffolding, modular and tube/joint. All the scaffolding operators are licensed for the installation, removal and transformation of scaffolding.
Petrol stations on roads and motorways.
Over time, the company has distinguished itself by its ability to complete and deliver works within the times contractually agreed while maintaining the highest quality standards and meeting the expectations of the most demanding customers.
Costruzioni Geometra Vettorini Pietro S.r.l. is in the process of SOA cat OG2 certification.